As I was visiting
No Excuses - Musing of a Procrastinator
a couple of weeks ago, I noticed that she had this logo and had written a short story based on the website's weekly theme: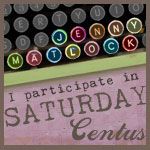 I thought it looked fun and thought that perhaps I might do it too, someday. Well, today was the day ;)
So I ventured over and saw this instruction for the assignment:
Saturday Centus - Autobriefagraphical
Directions: "THERE IS NO PROMPT THIS WEEK. BUT YOU HAVE 6 WORDS TO WRITE YOUR AUTOBIOGRAPHY. Period. FEEL FREE TO USE A PICTURE IF IT WILL HELP!
And here are my six words:
Born. Trained. Loved. United. Raising. Living.
I think it sums my life up quite well. :)