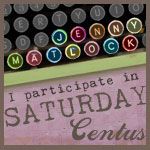 The prompt this week is: It was only ninety-eight cents...
Number of words: 98 EXACTLY including the 5 words of the prompt.
Style of writing: Any so long as the total word count is EXACTLY 98 words
Pictures: As many extra pictures as you like.
She was so cuddly and fluffy. I closed my eyes and pushed my face deeper into her downy softness that tickled my nose.
She was perfect: white with black patches. I'd name her Patches!
I saw the price tag: $10. Tears sprang to my eyes. I kissed the fluff ball kitten and put her back in the box.
The lady put her arm around me and asked how much money I had. I counted: it was only ninety-eight cents. She said that Patches loved me and that she wanted me to only pay my ninety-eight cents. Happy Day!
Now it's your turn! Come play with us :)